Verizon Wireless
Verizon Wireless Refer-a-Friend Program, February 2016:
Referral rewards

$25 visa debit card each!
Check if one of your friends can refer you with
Last referrings made :
Since yesterday, for Verizon Wireless:
1 referrals made
$25 earnings referrers
$25 earnings referees
$50 earned in total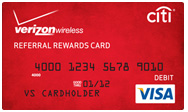 With Verizon Friends & Familly program, you receive a free $25 filled debit card if you're referred, and your referrer gets a nice $25 debit card, to spend anywhere you like as well!

You think you don't know anyone who can refer you, or no one to refer for Verizon Wireless? Wait :) Here's how to benefit from the Verizon Wireless referral program:
Referrers :
Win a complimentary $25 debit card, refilled with extra $25 for each referee your recommend.
How to refer people ?
Add your referral ad for once.

Validate. Your ad is available to everyone !

Start spread it around. Or just wait for people to come and select you as their Referrer / "Referral friend"
Referees :
Win a complimentary $25 debit card when subscribing at Verizon Wireless with a Referrer's recommendation.
How to be referred ?
Click on "Find a Referrer" button below and select the first guy you get as your "Referrer".

You'll be asked for your details to send him, so he can add you as his friend on Verizon portal.

That's it ! you'll receive an invitation email from Verizon.
You may also be interested in Verizon Residential (TV, Internet, Phone) refer-a-friend offer ($50 each): http://www.refaround.com/verizon-fios
+ Terms and conditions
Cards issued by Citibank, N.A. pursuant to a license from Visa U.S.A. Inc. Citi Prepaid® Services is a Citibank, N.A. business. Cards will not have cash access and can be used everywhere Visa debit cards are accepted.
Up to 5 referees per referrer.
Info that the referee must provide to his new "referral friend" to get referred:
Referee's Email address
Referee's Last Name
Referee's First Name
Pick a referrer for Verizon Wireless now!
Do you represent Verizon Wireless?
Discover how to get the best results from your presence on RefAround.com (updates, widgets...)

Owner page Verizon Wireless
RefAround.com is not directly affiliated with Verizon Wireless. The full terms and conditions of this promotion are mandated by the company and are published online at http://www.verizonwireless.com. Promotion is subject to change.
Welcome to RefAround.com !

Did you know about the Verizon Wireless referral program?
$25 visa debit card each !




To see how this refer-a-friend offer works, close this window...
Referees also viewed